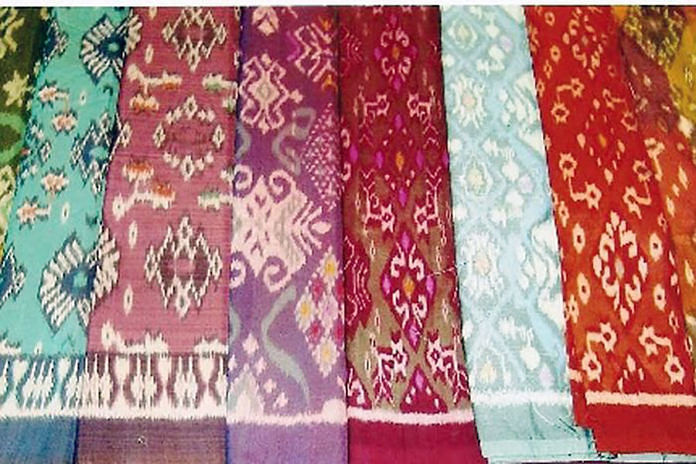 DENPASAR, BALIPOST.com – There is an embroidery fabric technique currently favored by Balinese people because of its cheaper price. Surely, it is worried to cause the original Balinese woven fabric to go extinct in the next five to ten years. This is quite unfortunate considering that Balinese woven fabric is a cultural heritage that should be preserved.
To be able to maintain this Balinese cultural heritage, Chairperson of the Bali National Craft Council (Dekranasda), Mrs. Putri Suastini Koster, invited small and medium industry (IKM) craftsmen and players, especially those applying embroidery techniques, to create their own designs and never imitate the designs of Balinese woven fabrics, mainly the existing songket.
This was explained by Putri Koster when briefing the participants of Bali Arts Festival (BAF) exhibition on Sunday (Jun. 9) at the Ksiraarnawa Hall of the Bali Art Center. She affirmed that in the past Bali was able to provide clothing needs from upstream to downstream. This means that from the supply of raw materials to the weavers were all available.
"Today, the cotton tree as the upstream of raw material for our yarn has gone and must be provided from outside. Unavoidably, the weavers are threatened with extinction in next five to ten years because consumers rarely buy the products," she said.
The threat of extinction against Balinese weavers affecting the extinction of the original Balinese woven fabric happened due to the rise of embroidery techniques on cloth where the motif follows the Balinese weaving motif, especially the songket motif passed down from generation to generation. "Now, there are many embroidery techniques taking the songket motif. This product is compared by consumers," said Putri Koster.
For housewives becoming consumers will definitely choose embroidery techniques because other than being cheaper, the appearance is also similar to the woven fabric where the motif is the same and the thread is shinier. As comparison, the price of embroidery fabrics is around IDR 400,000 to IDR 500,000, while woven fabrics with cagcag techniques can cost up to millions to tens of millions. Such minimal interest of consumers in buying Balinese woven fabrics and the switch to embroidered fabrics will eventually eliminate the Balinese woven fabric business.
"Within five or ten years from now, weavers in Bali will shut down their business because their products are rarely bought," said Putri Koster.
In order to develop together and preserve Balinese woven fabrics, Putri Koster invited craftsmen and SME business people in the fabric field to create their own motif for embroidery fabrics.
For woven fabrics, the existing motif needs to be reconstructed and reproduced so there is diversity and sustainability. Another way is that small and medium industry of embroidery fabrics must encourage consumers to wear embroidered fabrics for clothing because of its lighter texture while heavy woven fabrics are used for kamen or sarong.
"If carried out together, we surely can improve welfare evenly, both the woven and embroidered fabric craftsmen," hoped Putri Koster. One of the embroidery cloth small and medium industry players, Jro Puspawati Saskara, agreed with the idea of Chairperson of the Bali National Craft Council (Dekranasda).
According to her, as a small and medium industry player selling embroidery technique so far she has been selling her own motives and never imitates the existing woven fabric techniques.
Jro Puspa added that currently Balinese weavers are also very hard to be found because the results of their works are seldom sold. Finally, most weavers switch to other professions, one of which is working as handphone counter attendant. "They are more proud to be handphone counter attendant than being weavers. Therefore, I strongly support the invitation of Chairperson of the Bali National Craft Council to make own motif for embroidered fabrics to preserve Balinese woven fabrics," she said. (Wira Sanjiwani/balipost)