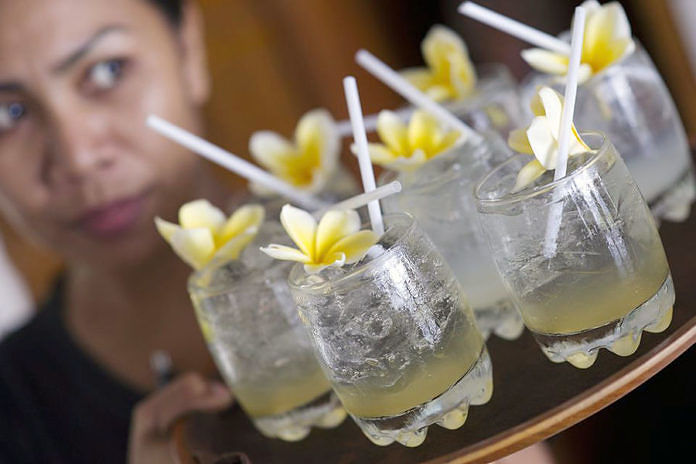 DENPASAR,BALIPOST.com — So far, Balinese arrack remains in the negative investment list. On that account, the legalization of arrack is still being pursued through the proposed revision of Presidential Regulation No.39/2014. Hopefully, Balinese arrack can be a host in its own region amid the rampant imported alcoholic beverages.
"This arrack has been produced through generations from time immemorial. Other than being used for rituals and cultural preservation, today it also has an economic prospect," said the Head of the Bali Industry and Trade Agency, I Putu Astawa, in Denpasar recently.
According to Astawa, the economic prospects in question are inseparable from Bali serving as a world tourist destination. Tourism sector like hotels and restaurants attracts imported alcoholic beverages for foreign tourists. Certainly it becomes a dilemma because imported products are increasingly rampant in Bali, while Bali itself does not have local products that can be sold at hotels and restaurants.
"Actually many guests (foreign tourists—Ed) ask about the typical Balinese drink. In Japan, there is sake and Korea has soju, while in other countries there are tequila, brandy, and whiskey," he explained.
Astawa added that various fruits that can be processed into traditional alcoholic beverages are also wasted, especially during the harvest season because they don't have permission. Actually, the processed fruits will provide added value for farmers facing over production at harvest time. These various reasons underlie the Bali provincial government to submit a proposal to revise the presidential regulation to central government. According to him, the reasons underlying the revision are quite reasonable.
"This arrack is produced by small farmers, poor people. It should take side with the weak community. Hopefully, president can agree it based on this reason," he hoped.
Finally, continued Astawa, a facilitation meeting on the revision of Presidential Regulation No.39/2014 has been held related to the development of traditional alcoholic beverage industry.
The meeting led by the Deputy V of the Ministry of Economic Affairs was attended by BKPM, the Ministry of Industry, Ministry of Trade, Customs & Excise Office, BPOM, Deputy Governor of Bali, Head of the Bali Industry and Trade Agency and Governor of North Sulawesi. Primarily, it followed up on the letter of Governor of Bali and North Sulawesi about the request for revision of Presidential Regulation No.39. It is said that Deputy Governor of Bali, Tjokorda Oka Artha Ardhana Sukawati, already conveyed the reasons of Bali to propose for the revision.
"Coordinating Minister for Economic Affairs is just facilitating, while the decision will be the authority of the president because it is Presidential Regulation," he affirmed. (Rindra/balipost)