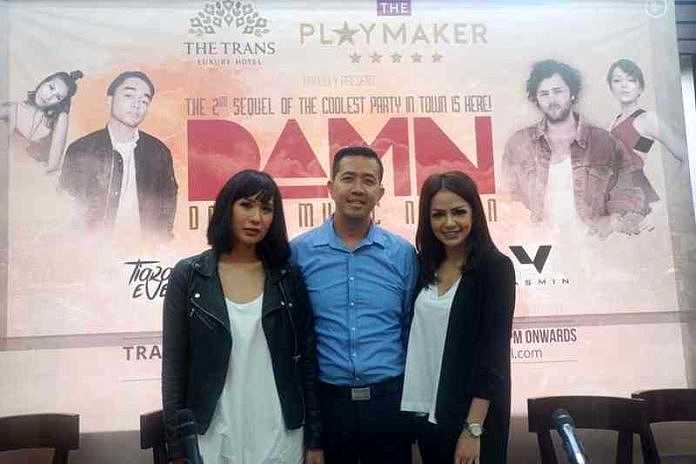 BANDUNG, BALIPOST.com – Melanjutkan kesuksesan Dance Music Nation pertama pada Mei dengan mendatangkan DJ TWRK, Emma Hewitt, juga DJ Winky, DJ Riri, dan DJ Rizuka, kini The Trans Luxury Hotel dan The Playmaker kembali menghadirkan the 2nd sequel of Dance Music Nation di Trans Grand Ballroom. Acara yang digelar 7 Oktober 2017 ini diklaim tidak kalah meriah dari yang sebelumnya.
Menurut General Manager Marketing Communication Kawasan Terpadu Trans Studio Bandung, Bagus Prastowo, electronic dance music festival ini akan dimeriahkan dengan penampilan spesial dari DJ internasional AronChupa, dan deretan DJ kenamaan Indonesia Dipha Barus, Yasmin, dan Tiara Eve.
Dikatakannnya DJ internasional yang paling ditunggu-tunggu kedatangannya di Indonesia adalah AronChupa. DJ asal Swedia ini tengah di puncak karirnya berkat lagu-lagu hitsnya seperti "I'm an Albatraoz" yang memimpin nominasi 'Song of The year' pada Swedish Grammy 2015, "Fired Cuz I Was Late," dan hits terbarunya adalah "Llama in My Living Room."
Sementara itu, Dipha Barus yang sudah sangat dikenal akan prestasinya di dunia EDM tanah air, akan membawakan deretan hits kenamaannya seperti All Good dan No One Can't Stop Us. Selain itu juga DJ cantik asal Indonesia Yasmin dan Tiara Eve akan menunjukkan kemampuannya dalam memainkan turntables.
"Melihat antusisme yang sangat tinggi pada Dance Music Nation pertama di bulan Mei lalu, semakin membuktikan bahwa Bandung kini semakin berevolusi menjadi kota metropolitan seperti Jakarta. Dengan anak-anak muda kreatif yang sangat mengapresiasi seni termasuk seni dalam bermusik di genre EDM yang kini kian berkembang di Indonesia." (Nikson/balipost)