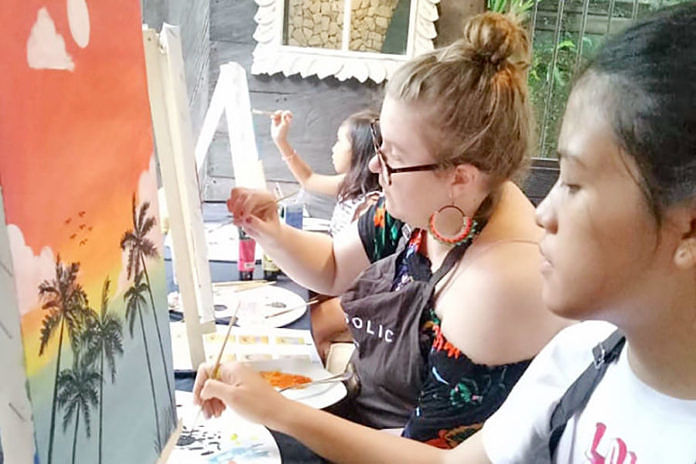 UBUD, BALIPOST.com – This art activity is really interesting and relaxed. Tourists can paint while drinking wine or drinking wine while expressing the art on canvas. This activity is indeed in demand, so that domestic and foreign tourists want to linger at the restaurant. "I will definitely come here if I'm relaxed. While painting, we can enjoy wine and eat," said the beautiful girl from Palu, Sulawesi.
It is one of the activities in Samanera Bowl Ubud. In order to increase the interest of both foreign and domestic tourists to stay in Bali and Ubud in particular, they are always creative in creating new tourist attractions. Painting and wine activity is in an open space, cool atmosphere, and can witness the activities at tourism village.
This tourist activity is indeed packaged casually for tourists wishing to paint whatever they want. "Painting and Wine Class is indeed presented to tourists to coincide with Kartini Day. We still give freedom to tourists taking part in these activities and wishing to paint anything," said the Founder of Painting and Wine Activities, on Sunday (Apr. 28).

Indeed, painting while drinking wine is deliberately selected to give relaxing impression. This activity has existed since 3 weeks ago in an effort to reduce saturation of tourists and workers carrying out daily routine activities.
"We provide outdoor facilities while seeing other tourists passing by around Ubud. You can also drink as much as you like," explained Inneke.

The response of tourists to Painting and Wine is quite good. Within a day, there are about 10 people getting interested in buying the Painting and Wine package. Children, adolescents and adults can do this activity. Specifically for children, the drinks are replaced with juice and other soft drinks. Even though it is packaged for weekends, for many ordinary days there are also enthusiasts. (Budarsana/balipost)