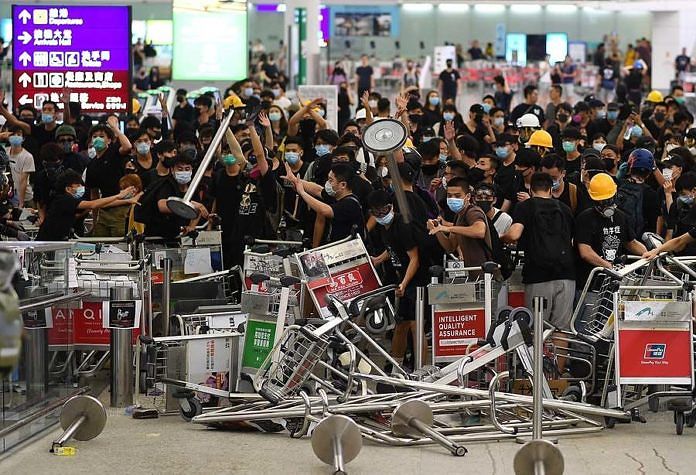 HONG KONG, BALIPOST.com – Chaos gripped Hong Kong's airport for a second day Tuesday as pro-democracy protesters staged a disruptive sit-in that paralysed hundreds of flights, saw police fire pepper spray, and a mainland journalist beaten.
Demonstrators defied warnings from the city's leader, who said they were heading down a "path of no return", and US President Donald Trump called for calm, saying his intelligence had confirmed Chinese troop movements toward the Hong Kong border.
The latest protest led to ugly scenes at one of the world's busiest airports, where small groups of hardcore demonstrators turned on two men they accused of being spies or undercover police — and as desperate travellers pleaded in vain to be allowed onto flights.
Hong Kong's 10-week political crisis, which has seen millions of people take to the streets calling for a halt to sliding freedoms, was already the biggest challenge to Chinese rule of the semi-autonomous city since its 1997 handover from Britain.
But two days of protests at the airport have again raised the stakes for the financial hub.
Beijing is sending increasingly ominous signals that the unrest must end, with state-run media showing videos of security forces gathering across the border.
All check-ins were cancelled on Tuesday afternoon after thousands of protesters wearing their signature black T-shirts made barricades using luggage trolleys to prevent passengers from passing through security gates.
Scuffles broke out between protesters and travellers, and vigilantism occurred when demonstrators turned on two men.
– Mob justice –
Police have recently disguised themselves as activists to make arrests, a move which has sent paranoia soaring among protesters.
The first man was held for about two hours before eventually being led away in an ambulance. Riot police briefly deployed pepper spray and batons to beat back protesters while they escorted the vehicle away from the departures hall.
Another man, wearing a yellow journalist vest, was surrounded, zip-tied and then beaten by a small group who accused him of being a spy.  (AFP)