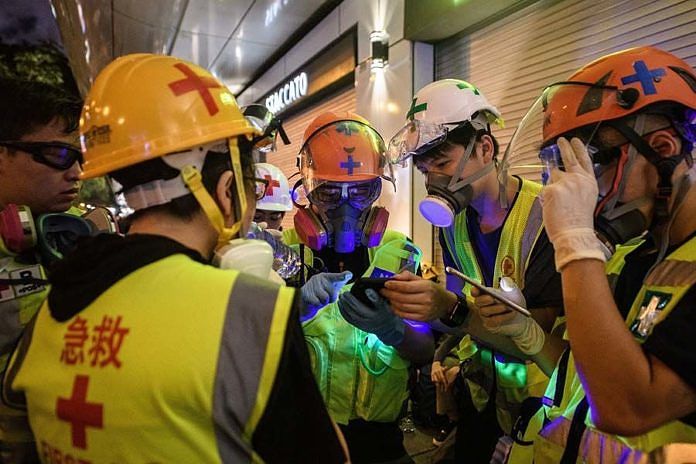 HONG KONG, BALIPOST.com – In the early days of Hong Kong's protests, Jonathan put out a call on a messaging app seeking fellow medics to aid demonstrators — within a day, 4,000 people had volunteered.
Nurses, doctors, medical students and ordinary people with first aid training all clamoured to join what has become a small volunteer corps helping treat people on the frontlines of protests that have engulfed the city for over two months.
Among them is Joshua Cheung, a 25-year-old salesman who learned first aid skills at a young age and joined the volunteers on June 12, after police fired tear gas, rubber bullets and bean bag rounds for the first time during the protests.
He has quickly become an old hand — on the evening of August 4 he was already on his third protest site that day, attending to a resident after a cloud of tear gas descended in the Wong Tai Sin neighbourhood.
"Blink your eyes, constantly, constantly," Cheung told the man, dousing his face with saline solution.
The role of the volunteer medics has grown more important as protests have become increasingly violent, with police firing tear gas, pepper spray and rubber bullets at demonstrators hurling bricks and bottles.
"What we do is humanitarian aid. We will help the injured, no matter whether they are protesters or policemen," Cheung told AFP.
– 'A way to help' –
He was working with three other volunteer medics, dressed in fluorescent green high-visibility vests with reflective strips and labels reading "nurse" or "EMS" to indicate their role.
They carried backpacks stocked with gauze, bandages, scissors and antiseptic, as well as saline to rinse the faces of protesters affected by pepper spray and tear gas.
"I've seen many of them getting injured during the protests, including being tear-gassed, pepper sprayed, which made them suffer," he said.
"So I want to find a way to help them so that they can continue to express their demands."
Cheung has helped everyone from residents caught up in protests to journalists injured covering the unrest, but he has kept his role secret from his parents, fearing they would worry. (AFP)