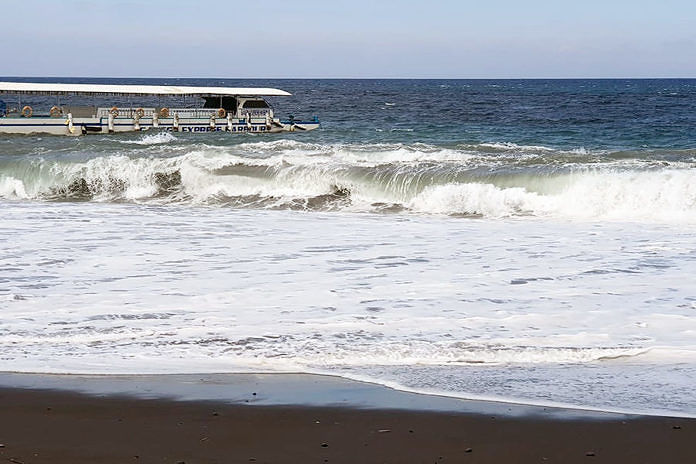 SEMARAPURA, BALIPOST.com — High waves accompanied by strong winds disrupted the routines of crossing services in traditional port. For instance, the crossing activities of fast boat at Tribuana Port at Kusamba, Dawan, to Nusa Penida were forced to be temporarily closed on Tuesday (Jun. 11).
Fast boat service providers did not want to take risks in the middle of the sea seeing such bad weather conditions. Such situation was justified by fast boat ticket attendant of Gangga Express, Dewa Ayu Kusuma. It cannot be ascertained how long the closure will take effect. If the weather on Wednesday (Jun. 12) improved, the crossing activities would take place normally. However, if bad weather continued, the closure of the port could be extended again.
Due to bad weather at Tribuana Port, the crossing activity was diverted to Padangbai Harbor. "The waves in the middle of the sea reached 3 meters. Seeing such weather condition, we don't want to speculate," she said.
Since it was opened on Tuesday (Jun. 11), starting at 07:00 the Gangga Express fast boat was said to have time to cross passengers for three trips. At that time, the wave condition in the middle of the sea seemed quite ferocious. So, from the results of monitoring, it was very dangerous for passengers to cross by force.
So, the schedule of three more trips had to be crossed through Padangbai Harbor since 09:00. Furthermore, when a prospective passenger arrives, all of them are directed to cross from Padangbai Harbor. One of the passengers who had made a crossing from Nusa Penida, Made Misna, admitted the situation in the middle of the sea was very bad.
He himself and three American tourists he escorted claimed to be forced to go down in Padangbai because the speed boat he was riding at that time was rejected to berth at Tribuana Port because the situation was not possible.
"I should have immediately returned to Nusa Penida. Because of the bad weather, I had to stay overnight on Klungkung Island," said the tour guide. Some other passengers preferred to cancel their crossing because of such bad weather. They decided to wait until the following day, so that they can cross in a safe situation.
Meanwhile, the National Weather Service (BBMKG) of Regional III Denpasar has released on its official page regarding the weather forecast for the Bali region as an early warning of extreme weather. This is valid for 24 hours (June 11, 2019 at 08:00 West Indonesia Time — June 12, 2019 at 08:00 West Indonesia Time).
The community is asked to be aware of the potential of strong winds and high sea waves that can reach two meters or more in the Bali Sea, Bali Strait, Badung Strait, Lombok Strait, and the South Indian Ocean of Bali. (Bagiarta/balipost)