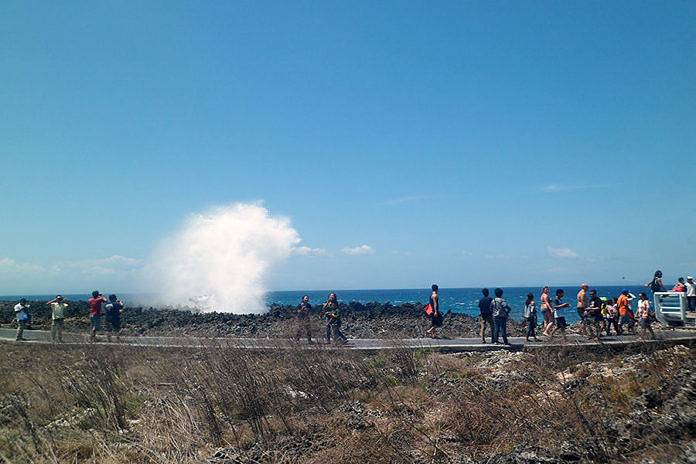 MANGUPURA, BALIPOST.com — After testing the enforcement of admission ticket to Waterblow area on Peninsula Island in Nusa Dua, the Indonesia Tourism Development Corporation (ITDC) is still waiting for completion of the cooperation agreement with the Badung district government. At present, communication with customary village for the contributions is also being carried out. Likewise, similar cooperation is made with local headman and relevant LPM.
According to Managing Director of The Nusa Dua, IGN Ardita, until now the visit to the Waterblow area remains to exist. Moreover, his management as the operator still continues to improve infrastructure. Before the enforcement of admission ticket, the visit to Waterblow during the ticket testing did not show any decrease, namely in the range of 500-800 per day. "Now to enter the Waterblow is still free.
Previously the implementation of the trial ticket was to test the market, whether the ticket value is fair or not," he said when met on Friday (May 25) after giving information regarding the implementation of the Nusa Dua Light Festival and Bali Blues Festival.

Meanwhile, in order to increase the number of visits to the Peninsula Island, the Indonesia Tourism Development Corporation (ITDC) for the fourth time organizes the Nusa Dua Light Festival (NDLF). This is the largest and the only lantern festival in Bali located on Peninsula Island, The Nusa Dua. This event will take place on May 30 – July 14 2019, with the theme of The Mountain View that will feature a series of mountainous lanterns.

NDLF 2019 will also be collaborated with the implementation of the Bali Blues Festival (BBF) on July 13-14, 2019, as well as the festival closing event. In addition to thousands of lanterns in various themes and designs, this year's NDLF also provides a variety of additional attractions including Kids Playground equipped with Mini Helicopter games, Euro Bungee, Mini Train, Trampoline, Rabbit House & Balloon House that are not available in previous years.
Meanwhile, the Bali Blues Festival 2019 will present national artists such as Gugun Blues Shelter featuring Emmy Tobing, Endah n Rhesa, Balawan, Gus Teja and other supporting artists.

During the 46 days of implementation, the NDLF 2019 is opened to visitors at 16:00 – 22:00 local time every day, with two groups of admission ticket prices. The ticket price for domestic tourists is IDR 30,000 (daily or weekdays tickets) and IDR 35,000 – (Saturday – Sunday or weekend, and national holidays). In the meantime, the price of admission ticket for foreign tourists is IDR 75,000 (weekdays) – and IDR 100,000 (weekends and national holidays). (Yudi Karnaedi/balipost)