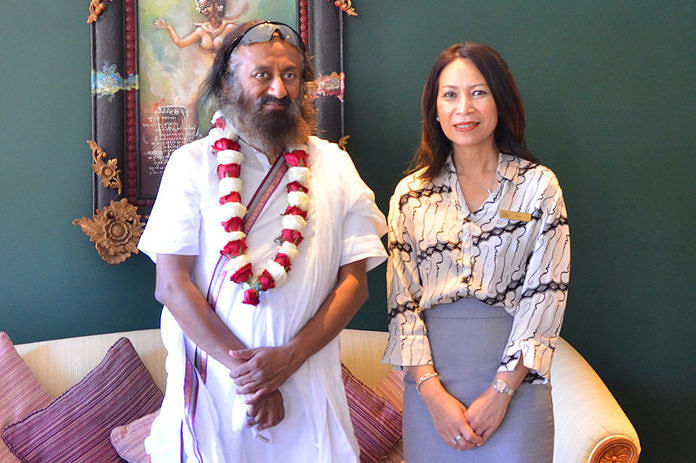 NUSA DUA, BALIPOST.com – On his visit to Indonesia, the global peace leader and spiritual master, HH Sri Sri Ravi Shankar traveled to Bali on 21st of April 2019 to hold a 6 day immersive meditation program named 'Unveiling Infinity' for the public. In this master class, HH Sri Sri Ravi Shankar took participants to a deep meditative state with long-lasting positive effects for the body and mind.
During his visit, the spiritual leader resided at the Nusa Dua Beach Hotel & Spa. Nusa Dua Beach Hotel & Spa was one of the selected Hotel partners for the participants' accommodation during this revered event.  Ravi Shankar, better known as HH Sri Sri Ravi Shankar, is a spiritual guide and founder of the Art of Living Foundation from India.
The name "Sri Sri" is an honorary title which has the same meaning as Guruji or Gurudev (Professor). In 1982, he introduced a breathing technique called Sudarshan-Kriya which he discovered after meditating for 10 days on the banks of the Bhadra River in Shimoga.
He believes that the flow of human emotions is in line with the rhythm and speed of breathing which, if arranged in such a way, can reduce or even release suffering in the soul. After that, he began applying Sudarshan Kriya in every course at the Art of Living Foundation, an educational and humanitarian movement engaged in stress-management and service initiatives.
The foundation operates globally in 152 countries and has 2 branch services in Indonesia, which located in Jakarta and Bali. The Nusa Dua Beach Hotel & Spa is the pioneer of luxury accommodation within the Nusa Dua area. This 5-star diamond resort, has been welcoming kings, queens, presidents and other dignitaries since its grand opening. Nestled within beautifully landscaped gardens, the resort, with its 382 guestrooms and suites, features all the elegance of a Balinese palace, while offering modern amenities.
The Nusa Dua Spa is designed to highlight its rich Balinese tradition with a variety of indigenous treatments. Dining at Nusa Dua Hotel & Spa is an epicurean journey with a choice of five restaurants and four bars under the close watch of an award-winning culinary team.  (kmb/balipost)