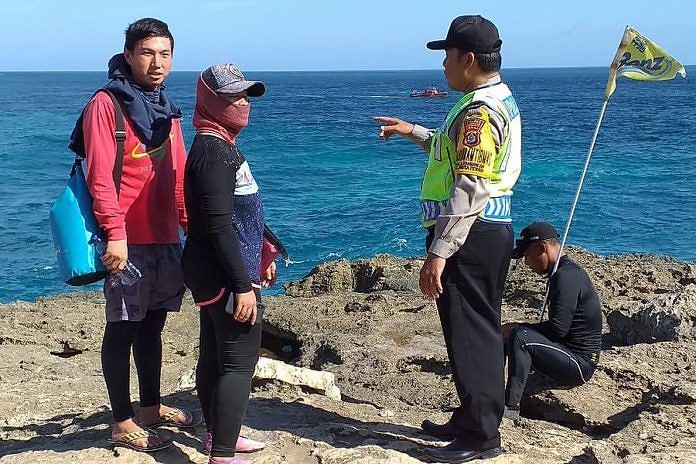 SEMARAPURA, BALIPOST.com –
Devil's Tears Cliff at Kawan hamlet, Lembongan, Nusa Penida, has claimed many casualties. Some survived with injuries after being hit by the waves, while others immediately fell and lost after being dragged by sea currents. Even though the warning signs have been posted around the location, tourist activities in that place remain crowded.
Head of the Klungkung Tourism Office, Nengah Sukasta, stated on Wednesday (May 8) that to respond to the number of similar incidents, the department  had anticipated by the installation of warning sign. In addition, he also claimed to have spoken directly to tourist guides  to explain that the area around the cliff extending to the sea is dangerous because big waves can crash suddenly.
However, tourists insist on coming to that location. More seriously, they come without being accompanied by their tourist guide. "We used to gather the tourist guides. At that time, we confirmed that if the guests go to Dream Beach (next to Devil's Tears), please accompanied them. So, after returning from that location, the guests going to the Devil's Tears cliff can be prevented by guides," said Sukasta.
Such frequent incidents are admitted to have been highlighted by many parties. Moreover, several private institutions plan to help install fences near the cliffs. However, until now nothing has been made.
Klungkung Tourism Office specifically went to the Tanah Lot tourist attraction in Tabanan to find the suitable type of fence to be installed. There, he got an illustration that appropriate fence is wooden one connected with a rope.
When using an iron type, it will corrode quickly, due to exposure to seawater. "We have prepared a budget of IDR 60 million to install the fence this year," he said.
The fence will be installed near the cliff as the boundary of safe areas and dangerous areas. Such a budget is estimated to only be able to hold around 50 meters. Clearly, it is not enough, seeing the cliff spreads about 500 meters long. However, Sukasta stressed it would be done in stages.
The last casualty in this cliff is Kausal Aditya. As reported, the ferocious waves around the Batu Belek Cliff or known by tourists as Devil's Tears returned to claim casualties on Tuesday afternoon (May 7). Kausal Aditya immediately disappeared from the top of the cliff after being struck by the fierce waves rising up the cliff.
Ardana asked tourists and other residents to be more careful when they are in that place. They may not get too close to the edge of the cliff because it can endanger them. (Bagiarta/balipost)