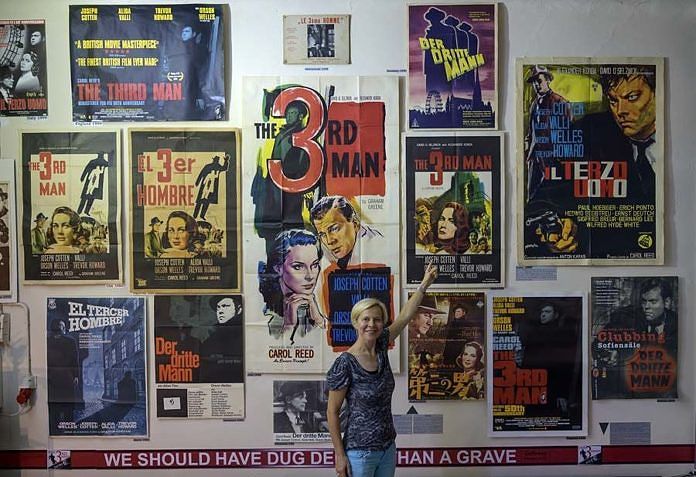 VIENNA, BALIPOST.com – From its iconic theme music to the legendary chase scene through post-war Vienna's sewers, spy classic "The Third Man" still draws legions of fans to the Austrian capital 70 years after its premiere — but has never found a place in locals' hearts.
"Austria is the only country where the movie flopped" following its release in September 1949, said Gerhard Strassgschwandtner, who runs a museum in Vienna entirely dedicated to the knife-edge thriller scripted by British writer Graham Greene.
"The Viennese were irritated by the not very flattering portrayal of their city" as a seedy hotbed of plots, murders and betrayal, he told AFP.
Most of English director Carol Reed's film noir was shot in Vienna's bombed-out streets after World War II when the Allied-occupied city turned into a Cold War hub for eastern and western secret agents.
Against this backdrop of ruins and political intrigue, Hollywood great Orson Welles stars as drug dealer Harry Lime who is killed under mysterious circumstances in Vienna.
A visiting childhood friend, played by Joseph Cotten, drags the viewers through dark alleys and misty tunnels on a labyrinthine hunt for the murderous truth behind Lime's death.
"There was a lot of excitement among locals during shooting… but the final result showed them as people sifting through rubbish, trading in the black market and refusing to cooperate with the police. They didn't like that," Strassgschwandtner said.
– 'Moral decay' fascination –
Internationally, however, the black-and-white film proved a huge box office success, reaping a Palme d'Or at Cannes and an Oscar.
The British Film Institute has crowned "The Third Man" the greatest British movie of all time, while the earworm theme tune composed by Viennese musician Anton Karas and played on a zither has sold millions of copies around the world.
With its distorted camera angles, lighting effects and nightmarish close-ups of anguished faces, the thriller has become a global "pop culture artwork", according to Norbert Kettner, the director of Vienna's tourism office. (AFP)