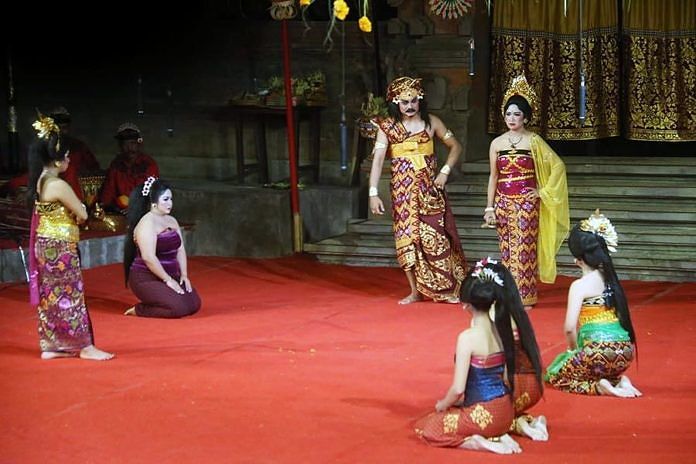 DENPASAR, BALIPOST.com – Performance of drama gong art had experienced its heyday in the 1980s and 1990s. However, after that the guidelines of the drama gong performance began to fade. To restore the guidelines of the drama gong, the Mudra Art Troupe of Petang as the envoy of Badung district in the drama gong parade of the Bali Arts Festival 2019 has a mission to restore the guidelines of the drama gong.
When making performance in the Ayodya Stage of Bali Art Center on Saturday night (Jun. 29), the drama gong players from the Mudra Art Troupe were able to suck up visitors to watch it. Moreover, their three-hour appearance seemed to have been able to relieve the longing of drama gong lovers.
The storyline presented entitled Sastra Semara Pingit with the background of the Panji story is full of romance and royal life as the feature of the gong drama so far. This Panji story is composed as attractive as possible without losing the identity and guidelines of the drama gong itself. Through the Panji story, the audiences are introduced to sor singgih or level of Balinese speaking language in the royal palace of Bali.
Performance of the storyline only relies on five players having the experience in playing drama gong, while the rest are the artists playing their roles for the first time in such drama gong. Meanwhile, the exercises were carried out for about four months.
The storyline of Sastra Semara Pingit tells about the romance of princess of the Daha kingdom of the first wife with the viceroy who is full of intricacies because of the greed of the second wife of the king of Daha. The second wife of the Daha king originating from Pejarakan is famous for her black magic. In one scene, the princess is kidnapped by a crazy king after he injured the viceroy.
The viceroy is worried about the safety of the princess. However, Vice Regent Anom advised the viceroy not to worry about it. Moreover, before her mother of the princess died, the deceased had given the princess the an ajian or 'magic application' named Sastra Semara Pingit where no one can associate with the princess without being desired by the princess herself.
The moral message wishing to be conveyed to the audience is that the truth will always win even though it should take a long and winding path. No matter how much suffering happens in the end if we are right, honest and patient, we will achieve what we expect.
"In addition to restoring the guidelines of drama gong, through the performance of the drama gong, we also want to introduce sor singgih to Balinese language to younger generation," said the Coordinator of the Mudra Art Troupe, I Gusti Lanang Subamya. (Winata/balipost.com)