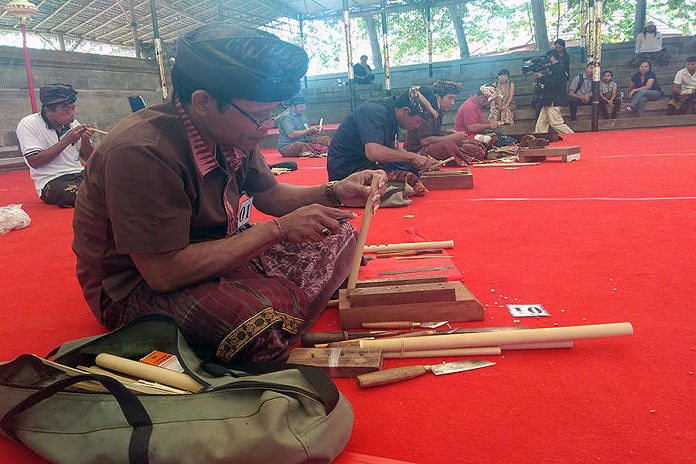 DENPASAR, BALIPOST.com — The Bali Arts Festival (BAF) event was filled with a contest for making Balinese flute instruments in Ayodya Stage, Bali Art Center, on Monday (Jun. 17). Unfortunately, not all districts / municipality in Bali sent participants to take part in the contest.
During the contest, the committee also found there were some participants carrying half-finished flutes. The flute was immediately taken by the committee because participants had to make flutes from zero.
"Actually, every district / municipality can send 1 to 5 people. However, at this time the participants only came from Denpasar, Badung, Bangli and Tabanan district," said the Jury Coordinator, I Gusti Ketut Sudana.
According to Sudana, each participant is required to make three types of flutes of different sizes within two hours. They are small flute or drip flute, medium flute, and large flute. Meanwhile, the assessment criteria include the materials in use namely reeds or jajang bamboo, the quality of bamboo, workmanship techniques, arrangement of finger holes especially the accuracy of the distance between holes, harmony of the tones, and sound quality produced by the flute.
"Among the three flutes, there are flutes using two kinds of tetekep, namely deng and dang. Tetekep, for example, if the 6 holes are blown, the active tone is called deng. In the medium size, if all holes are closed will produce dang, and the smallest one is deng. They have one octave," explained the lecturer at Classical Gamelan Music Department (Karawitan) of the ISI Denpasar.
Sudana added the flute is one of the important instruments in gong kebyar gamelan set. From his observations, all this time flute craftsmen have had a lack of understanding on the scales so that the sequence of notes is not appropriate when the flute is played. The most decisive sound source is the sweet hole, namely the small downward hole next to the strap of the flute.
Through this contest, it is also expected to be able to maintain the existence of Balinese flute craftsmen. In the future, the contest is not only limited to making flutes but also including how to play the flute. "Technically, playing the flute is very difficult because the flute players are quite rare," he added.
Meanwhile, for bamboo raw materials, continued Sudana, can still be easily found as growing quite a lot in several districts such as Tabanan, Bangli, and even Karangasem. (Rindra/balipost)