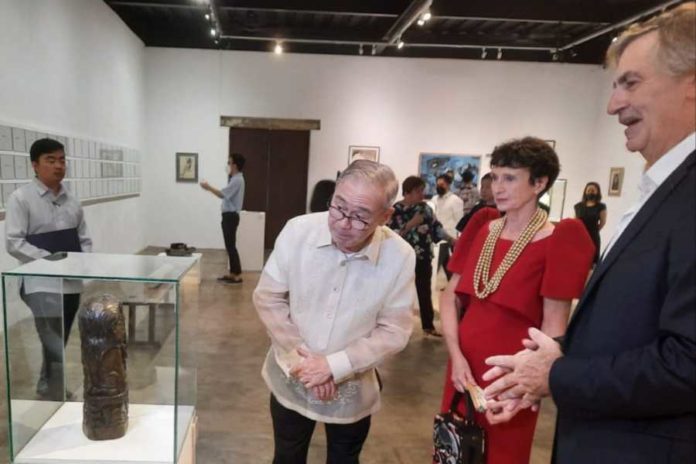 MANILA, BALIPOST.com – Museum Pasifika in Bali lent several artworks from the famous French artist Paul Gauguin, Tahitian bronze sculptures and paintings in this exhibition as a form of collaboration between France and the Philippines. The founder of the Pasifika Museum, Philippe Augier, was also present at the opening of the exhibition, according to the release from the museum.
It is the only foreign museum participated in this event and received great appreciation from both Philippines and France.
The Philippines and France on Sunday formally marked 75 years of diplomatic relations, with the later seeing closer engagements on food security and education. "We really have had this very long friendship and cooperation, we're celebrating the 75th
anniversary but our relations are even older than that," French Ambassador Michèle Boccoz said during the 75th-anniversary celebration at Pinto Art Museum.
"[Join me] in wishing ourselves, among others, peace, prosperity, good health; the freedom to continue our friendship and cooperation; equality and reciprocation in our actions in the spirit of brotherhood to advance our common interest," he said.
"And then it's post-Covid so we all need to recover, we all need to build our economies back better and stronger. And so this is an opportunity for both countries," she added.
Boccoz, in an interview, said the embassy has also established contact with the incoming administration and is now waiting to see how it will delineate its priorities after the inauguration. "Education is the best basis in whatever area we're talking about, education is at the core of it. I think both our nations value education very much," she said.
To celebrate these 75-year ties, several events will be organized throughout the second half of 2022. On June 26, the two nations launched the "Diamond in the Rough" exhibit at the Pinto Art Museum in Antipolo, Rizal, featuring art pieces by French artists who have lived in the Philippines and Filipinos who have lived in France. It will be open for public viewing from June 27 to August 7, 2022. (kmb/balipost)