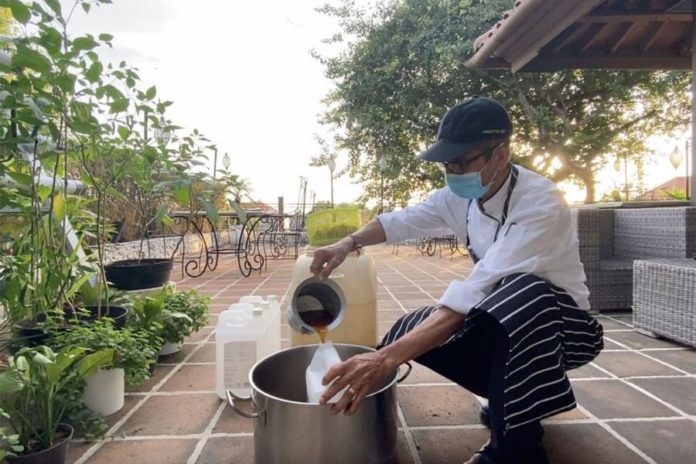 MANGUPURA, BALIPOST.com – Nowadays, the environment plays a major role in the quality of life, years of health life lived, and health disparities. Therefore, as part of the commitment to support the sustainability of the environment, Nikko Bali Benoa Beach Hotel has started the eco-friendly steps that have been done into the day-to-day operation.
One of the steps that had been done was making composs by leftover from kitchen. This process in making eco-enzyme and liquid fertilizer was begin at Februari 2021.
The fertilizer made from leftover vegetables and fresh fruits gathered by staff was use at the Nikko Farm. The farm has several vegetables and herbs grown in the soil such as; eggplants, kale, cherry tomatoes, mint leaves, basil, chilies, oregano, dill, rosemary, and celery.
"One of the advantages of organic liquid fertilizer is that liquid penetrates the soil immediately and plants are given faster access to the nutrients. Some plants will see results from this application almost instantly. Besides being aligned with our sustainability program, this is one of our efforts for our valued guests by serving organic food for those who wish to control their nutrition intake," said Masaya Hasebe, General Manager at Hotel Nikko Bali Benoa Beach, as stated in the release.
He added the benefits of eco-enzyme are for floor cleaner, wash kitchen utensils, and also as organic fertilizer. "To support the local business and as part of reducing the carbon footprint, we imported the best locally sourced ingredients directly from the local farmer and fishermen. To serve the appetizing creations, we ensure the local ingredients are paired with high-quality elements for a luscious connoisseur cuisine." (kmb/balipost)