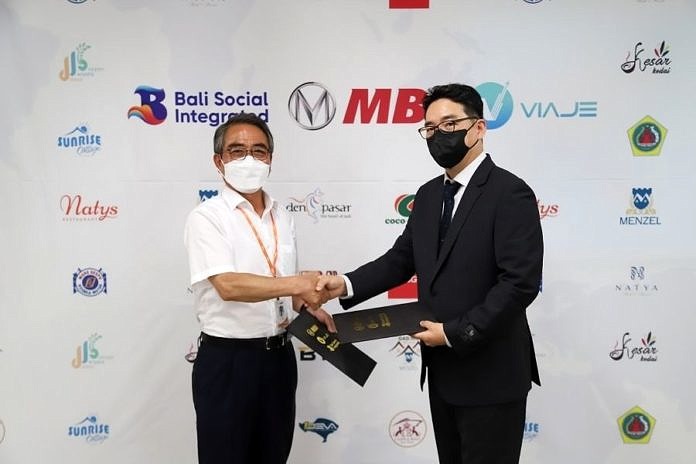 JAKARTA, BALIPOST.com – Viaje Indonesia Digital, the block-chain based Travel SupperApp provider, announced a signing of Memorandum of Agreement (MoA) with MBI Co. Ltd, manufacturer of the electric motorbikes originating from South Korea on Thursday, August 5th, 2021.
Through this MoA, as stated in their release, MBI has agreed to send out 1,000 units of vehicles in 2021. This encourages global awareness and supports an eco-friendly tourism environment.
MBI poses to be the most suitable partner, besides manufacturing electric motorbikes, MBI also produces powertrain, transmissions, battery, chargers and SBS. To Viaje Indonesia, this denotes to being a vital milestone, to the developed SuperApp containing services in relation to the tourism industry such as; hotel reservations, flight purchases, touristic tickets onto electric motorbike rentals.
With this newfound agreement with MBI, Viaje will launch its electric motorbike rental service in various tourist sites across Bali along with various benefits such as; lower-cost fees, convenient access for foreign tourists, and a transparent system. These electric charged motorbikes will be distributed to our business partners in Bali, including hotels, convenience stores, resorts, restaurants, up to Electric Vehicle communities.
"The Viaje project has come a long way to reach this moment. All the people's hard work and determination has enabled us to create an enjoyable, clean environment in Bali. Now, we are glad and proud to start the Bali Eco-friendly Project with MBI and partners from Bali," as said by the CEO of Viaje Indonesia & Bali Social Integrated Foundation, Reza Yuriputra.
Within this very same opportunity, Moon-Soo Yoo, Chairman of MBI Co. Ltd stated on their behalf to be pleased that the electric motorbikes from MBI, with its unmatched technological skills in South Korea, is able to take part in the Bali Project, with a mission to make the island of Bali clean and beautiful.
Mr. Yoo also mentioned that he would like to show his gratitude to their partner, Viaje Indonesia for presenting to them this grand opportunity for MBI to contribute to this eco-friendly project.
As for the partnership between VIaje Indonesia and MBI, it is given a warm welcome by the tourism industry in Bali. COCO Group's representative, Mr. I Nengah Natyanta, Founder and Owner of COCO Group, appraises this partnership to bring great impact to the tourism industry in Bali, whilst emphasizing the goal of creating a globally conscious tourism ecosystem.
While Mr. I Made Andika, Head and representative of Desa Sayan stated on their behalf to be sure of this partnership between Viaje Indonesia and MBI bringing tremendous effect in conserving the environment in which cleanliness has been preserved and well-kept all this time. (kmb/balipost)