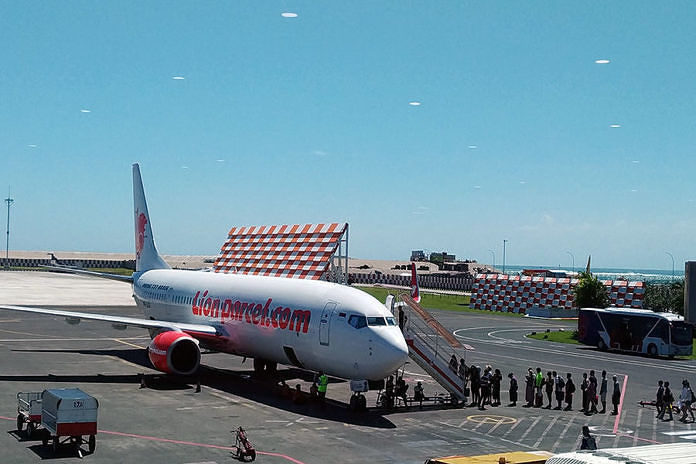 MANGUPURA, BALIPOST.com — To anticipate the surge in the traffic of airplanes and passengers entering and leaving Bali during the Eid period, PT Angkasa Pura I (Persero) as the operator of the Ngurah Rai International Airport officially opened the Eid Integrated Transport Post 2019 on Tuesday (May 28). Based on the data collected until day one before the operation of the post, two airlines already applied for extra flights, namely Batik Air and AirAsia.
The two airlines proposed a total of 216 extra flights, with details that AirAsia submitted 84 extra flights, as well as Batik Air with 132 extra flights. When compared to the number of last year's application amounting to 765 extra flights, there is a decrease in the number of extra flight application up to 254 percent.
"Although this year's extra flight application is far less compared to last year, we remain committed to providing the best services for the implementation of comfortable and safe flights," said General Manager of PT Angkasa Pura I (Persero) for Ngurah Rai International Airport Branch, Bali, Haruman Sulaksono, in his statement when opening the post.
He predicted the peak of the traffic movement ahead of the Eid will occur on the day two before the Eid with 471 aircraft movements and 76,974 passengers transported. As for the peak of traffic movement after the Eid will happen on day three after the Eid, where there will be 471 aircraft movements and 84,385 passengers served.
During the operation of the post, personnel will be assigned to be on duty in the Eid Integrated Command Post that will be divided into 3 shifts, namely the morning, afternoon and night shift.
A total of 39 personnel of each shift across airport community institutions are ready to ensure the best services for passengers. "During the implementation of the post, 1,648 joint personnel from various institutions of the airport community members will be alerted to ensure flight safety and security, as well as the smooth traffic of passenger movements within the airport area," said Haruman.
The 24-hour Command Post will operate for a period of 16 days, starting from May 29, 2019 until June 13, 2019, manned by personnel from a number of institutions, namely PT Angkasa Pura I (Persero), Airport Authority Office Region IV, Port Health Office, Ngurah Rai Air Force Base of Indonesia, Ngurah Rai Airspace Sector Police, National Search and Rescue Agency (Basarnas), Ngurah Rai Meteorological Station, and K9 Unit from Bali Police. (Yudi Karnaedi/balipost)