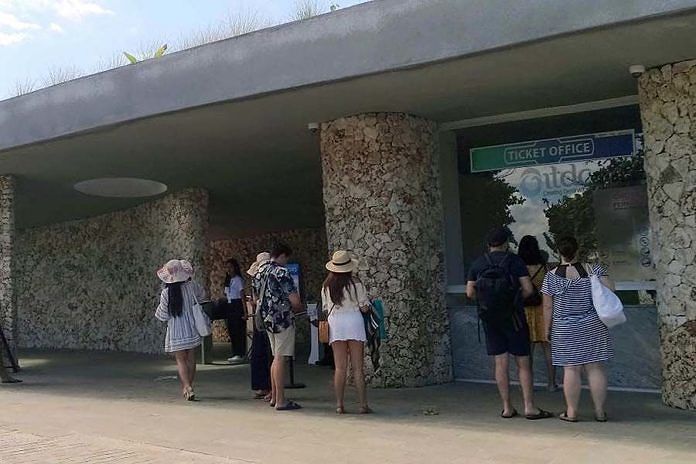 MANGUPURA, BALIPOST.com – Admission ticket to the Waterblow area located on Peninsula Island, Nusa Dua, began to be applied as of May 1, 2019. Enforcement of this admission ticket is in accordance with the decision of the Regent of Badung No. 17/04 / HK / 2018.
This was implemented considering the Waterblow area has been designated as a Badung tourist destination (DTW). With the application of admission ticket, visitors are charged a tariff of IDR15,000 per person for domestic and IDR 25,000 per person for foreign tourists. When confirmed on Sunday (May 12), the Operations Division Head of the ITDC Nusa Dua, Made Pariwijaya, justified the implementation of the admission ticket having begun since May 1.
He added that after arranging the area, security of visitors coming to the Waterblow is guaranteed. Those making a visit can enjoy the beauty of the bridge from 3 monitoring deck areas. They are even forbidden to go down to the reef for security reason. "The closest deck distance is 15 meters from the cliff. Visitors must not go down to the reef," he said.
Besides, during extreme weather conditions, the area is also monitored by security and lifeguard. There are also restrictions on the area based on the situation and wave height information from the National Weather Service (BMKG). "For security reason, visitors are also supervised by security and lifeguard. As for each ticket held is covered with insurance, and BIMC Siloam Nusa Dua Hospital will be used as a reference in the event of an undesirable event occurred," he explained.
With the application of admission ticket, he targeted a minimum number of visits of 500 people per day. According to him, this amount is almost the same as before the admission ticket was issued. Prior to the implementation of the admission ticket, the number of visits was approximately the same, within the range of 500-600 people per day.
"With a better security system and covered with insurance, we are confident the number of visits can continue to increase. For now, we are targeting as many as 500 people per day," he said. (Yudi Karnaedi/balipost)