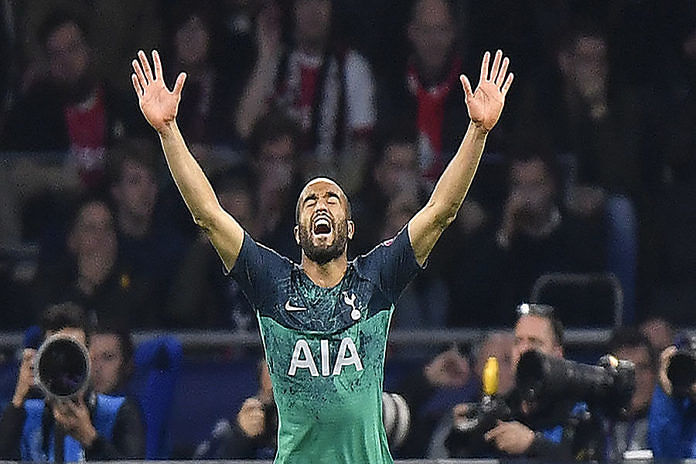 AMSTERDAM, BALIPOST.com –
Lucas Moura came to Europe dreaming the chance of winning the Champions League after he was discarded by Paris Saint-Germain. However, his hattrick bring The Lilywhites the final.

Spurs will go to Madrid on June 1 to face Liverpool thanks to Lucas's second half hat-trick that turned around a 3-0 aggregate deficit against Ajax as the club reached the final for the first time in their history.

In different circumstances Lucas would likely not even have been on the pitch.
Harry Kane was not able to play due to ankle ligament damage, the latest injury to have ravaged Mauricio Pochettino's over-worked squad because Spurs have not signed a single player since Lucas's arrival in January 2018.

Yet after a season of ups and downs, Spurs will travel to the Spanish capital knowing they could be on the brink of the greatest night in the club's history. "Without Harry Kane many people were talking about Son (Heung-min), but today it was Lucas Moura who scored three goals," said Pochettino, who broke down in tears after the match in Amsterdam, quoted from AFP.

"That showed that the team is more important than any name. When one does not play, another plays." Lucas's former employers PSG would do well to remember that piece of advice as their star-studded approach to try and buy European glory continues to fail.

The world-record signing of Neymar for 222 million euros ($248 million) saw Lucas jettisoned from Paris for a fraction of that fee, yet in the course of 40 minutes in Amsterdam he scored as many Champions League semi-final goals as Neymar has in his career.

"All the credit goes to Lucas because he has made history for the club. He deserves it because he just has an incredible mentality and I think it's a nice story of revenge for him," said Tottenham and France captain Hugo Lloris."(Gugiek/afp)