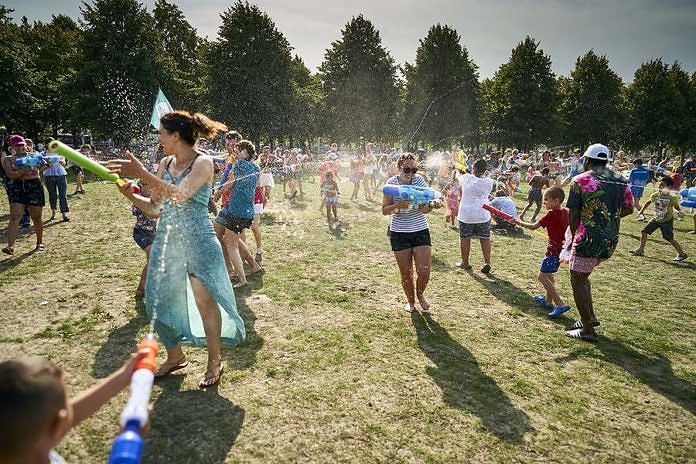 PARIS, BALIPOST.com – Belgium, Germany and the Netherlands recorded their highest ever temperatures as a European heatwave soared towards its peak on Wednesday, impacting rail transport and prompting a number of drownings with people taking to the water.
Cyclists in the Tour de France in southern France had to puff their way over the course in well over 30 degrees Celsius while in the Netherlands, farmers have been leaving their cows outside to sleep, rather than bringing them in at night.
Belgium registered an all-time high of 39.9 degrees Celsius (104 Fahrenheit) at the Kleine-Brogel military base, beating a record that dated back to June 1947.
In Germany the temperature soared to 40.5C (104.9F) in western Geilenkirchenthe, surpassing the previous record of 40.3 (104.5)
In the Netherlands, 38.8C at Gilze-Rijen, in the south, displaced a record dating back 75 years.
The second heatwave in less than a month has focused new attention on climate change and a host of French cities broke records on Tuesday. Wine capital Bordeaux hit 41.2C (106.16F) while the central city of Vichy climbed to 41.3C (106.3F).
Paris is facing its hottest day on Thursday with the French capital's 70-year-plus record of 40.4C (104.7F) forecast to fall. Cooler weather with rain was expected to provide relief from Friday.
"It's too much for us," said Sven Schenk, 29, a logistics worker from Germany who was visiting Paris. "We're not looking forward to tomorrow! But we haven't changed our plans." (AFP)