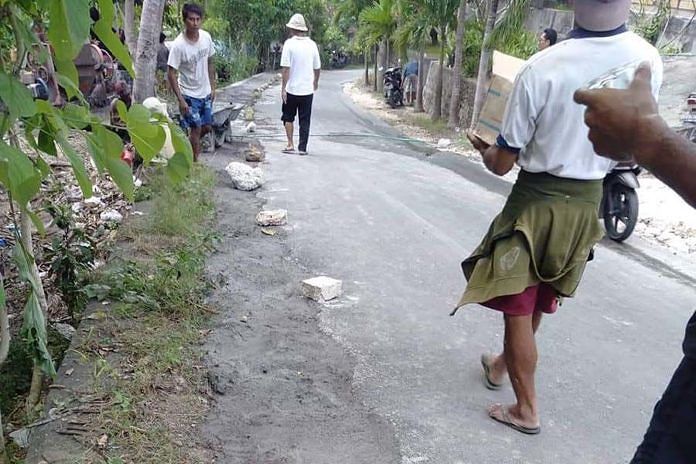 SEMARAPURA, BALIPOST.com – Road access at Sakti village, Nusa Penida subdistrict, especially in Sebunibus hamlet, is lately quite crowded by tourists. The route becomes the only access of local and foreign tourists to the well-known tourist attraction on this island, namely Crystal Bay and Angel Billabong.
Lately, this road access was eroded by rainwater from upstream during heavy rains. To repair the damage, residents took the initiative to carry out self-financing repair on Sunday (May 12). A local resident, I Wayan Supiana, stated the self-financing repair is based on the initiative of local residents. Most donors are from the residents and are done independently to cover the side of the road so that water will not easily erode when it rains.
Moreover, the traffic at this lane is very crowded, so that vehicles are then more flexible to pass through this road access and gives a good impression in the eyes of tourists. Local residents are so called to make repair because they mostly work in the tourism sector. As consequence, the road access along 1.5 km is reinforced so as not to cause more damages.
A community leader, Pande Bagus Guna Sesana, emphasized that such effort is actually forced to do because potholes on the road side already look like ravines to erode half of the road body. Such conditions are very dangerous. "Many guests and local residents have fallen, so this can result in bad tourism image if left unchecked like this," he said.
Meanwhile, Headman of Sakti, I Ketut Partita, explained that the self-repaired road section actually belongs to the district. As consequence, this village authority cannot allocate funds from the village budget (APBDes) for the maintenance.
"In early December, we have coordinated with the Public Works and People's Housing Agency. As a result, it will be realized in early June. However, due to high enthusiasm of our residents to perform self-repair, based on permission of subdistrict Public Works the activity can be realized. On that account, this year's budget will be allocated to repair the Toyapakeh-Manteb road section," he said. (Bagiarta/balipost)