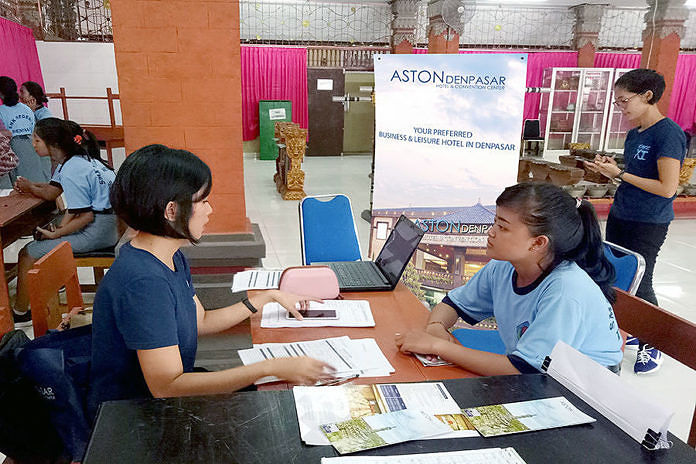 DENPASAR,BALIPOST.com – Aston Denpasar Hotel & Convention Center who are reliable in their fields is by making a selection. Selection made by the hotel located on Jalan Gatot Subroto Barat No. 283 was by visiting one of the most favorite tourism schools in town, called SMKN 5 on last May 28th, 2019.
The selection process itself was conducted by opening 2 job fair booths in the school's hall which located on Jalan Ratna No. 17, Denpasar. It organized by t
done by the department concerned housekeeping, and front office.
"The main purpose is to gain property and brand awareness, to find, and recruit the best trainees from SMKN 5, Denpasar. Furthermore, to support the government program in n reducing the unemployment and alleviate poverty, we also visited vocational training center (BLK) located in No. 23, Denpasar.
And proud to inform you that 21 students were selected to be our future trainees for the period of June – November 2019 which will be placed in the food & beverage product (Kitchen) and food & beverage service (Restaurant) department. The best trainees will get the opportunity to be recruited to become employees of our hotel. "Said Wahyuningsih – Human Resources Manager at Aston Denpasar Hotel & Convention Center.(Gugik/balipost)